Brescia Accommodation
Brescia is a small city that is easily accessible by foot, taxi, a single line metro or via the popular city bike hire service.  Accommodation in Brescia is reasonably inexpensive offering a large variety of room types, local and international brands with starting prices from circa €60 per night. 
We have taken a strategic decision to not make a block booking of rooms for accommodation for this meeting.  Instead deciding to offer delegates the choice of using their preferred room booking service provider (booking.com trivago.co laterooms.com etc). This gives delegates greater choice of accommodation type and budget control.
Our meeting venue is at the Universita Degli Studi Di Brescia, Facoltà di Medicina e Chirurgia, 11 Viale Europa, 25123 Brescia BS, Italy.  All our daily meeting activities will be held at this location.  The closest Metro station is Europa. The venue is a short 2 to 5 minute walk from Europa station. 
In deciding on your preferred accommodation, we suggest you select any hotel to your budget requirements that is a short walking distance from any metro stop.   For example, there are approximately 6 low to mid priced hotels located within walking distance of the Europa and Ospedale metro station. 
Ca Noa
Hotel Leonardo
Regal hotel
Triocale Mompiano
Hotel Ambasciatori
Prices for accommodation for the above hotels ranged from 50 to 198 euro per night at the time of publication of this website.
Moving further down the line towards Brescia central station (Stazione) you will find many hotels all within a short 2 to 5 minute walk of various metro stations. For example:
Novotel Brescia Due (rooms starting at €98) is a short walk from Bresciadue and Stazione stations
Dietro L'angolo (rooms from €55) and Hotel Vittoria (rooms from €95) are just 2 minutes' walk from Vittoria station
Within 2 minutes' walk of Brecia Due and Stazione there are over a dozen hotels covering all budget ranges which are easily accessible by foot to the stations.
Metro
The Brescia metro system operates an honour system. Ensure you purchase a ticket before travel and validate it at the validator before crossing into the controlled ticket only area.
The cost of a single ticket journey within one zone is €1.40.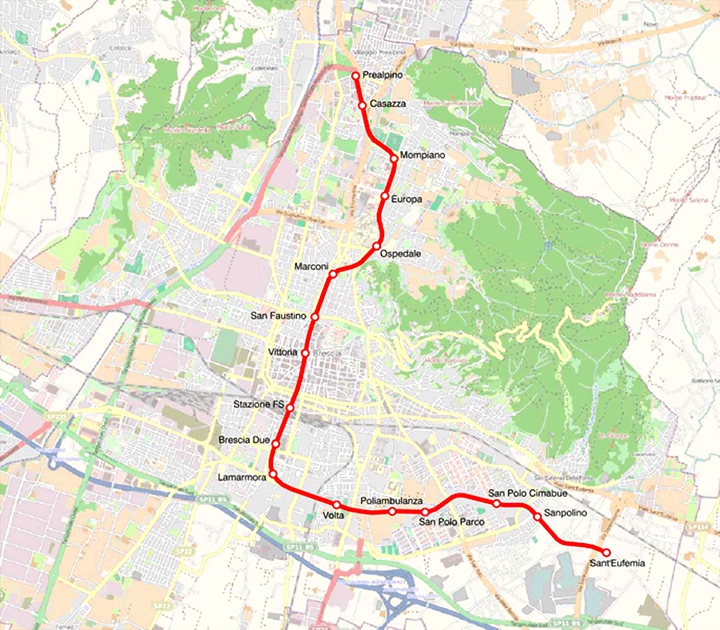 MOMPIANO
Hotel Cà Noa, www.hotelcanoa.it/index.php 
Hotel Regal  www.regalhotel.it/home-en
MARCONI
Hotel Ambasciatori www.ambasciatori.net/en

SAN FAUSTINO
Hotel Master www.hotelmaster.net/home-en
VITTORIA
Hotel Vittoria www.hotelvittoria.com
Hotel Orologio www.albergoorologio.it/en/
B/B ai Musei www.aimusei.it/en/
Centro Paolo Sesto www.centropastoralepaolovi.it/en/
STAZIONE
Hotel Igea www.hoteligea.net/home-hotel-igea-english
BRESCIA DUE
Hotel Novotel www.accorhotels.com/it/hotel-A0Z4-novotel-brescia-2-/index.shtml
VOLTA
Hotel della Volta www.hoteldellavolta.com/en/index.asp